This article – written by parents and individuals working in the industry – suggests practical tips and resources on how to talk to your child to guide and educate them about cannabis and hemp when the time is right. This may be especially relevant if you live in a state that has legalized marijuana.
Instead of ignoring the topic we advocate for open communication to help parents and kids continually learn about the potential benefits and associated risks with the plant. This is to prevent illegal youth use and educate about medical use. So, let's review educational resources for parents with young children, survey results about adolescent use, tips and talking points, and all the resources to support. 
Cannabis Resources for Parents of Young Children
If you have a younger child between 3-10 years old, there are some educational resources that may help parents introduce or explain the topic when you are ready. Callie and Friends are writers and illustrators of children's books on cannabis with a mission "to educate generations through evidence-based information about the cannabis plant."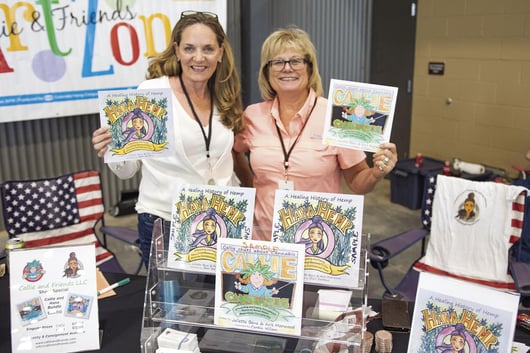 The Callie and Friends book series came into being, after Colorado voted to become the first state to legalize adult use of cannabis in 2012.  Medical cannabis was legalized in California in 1996.  As word of individual stories reached across the U.S., families with children found that cannabis could provide relief for symptoms that were not helped by pharmaceuticals.
However, due to limited research and a lack of federal regulation, in addition to having to navigate individual state laws, some families had to relocate to states that legalized cannabis for access.  For parents who are cannabis consumers, the stigma still exists, however that is exacerbated if that parent or their child is a medical patient. There is the constant worry that Child Protective Services may see medical cannabis as abuse to a child.  
The authors felt there was a need to discuss how children, who are medical marijuana patients, can have access to safe, effective treatments at school, just like they would if they took a doctor's prescribed medication, through the school nurse.  Some laws in CO are in place for that very reason. Jack's Law allows parents or caregivers to give their child cannabis on school grounds.  However, if a child is having a seizure medical attention often cannot wait.  Quintin's Amendment was enacted so school personnel can administer medical cannabis to the child.
If you or your child have a serious medical condition learn how to go about getting your medical marijuana card in your state and contact your health care provider.
Callie and Friends Books
The Callie and Friends books are written by co-authors Juliette Benz and Kris Michelle (formerly Morwood). Kris Michelle is a mother, cannabis consumer, and the Executive Director of the Council for Federal Cannabis Regulation Foundation. She saw a lack of information discussing cannabis and hemp from a parental perspective and envisioned books designed to normalize the conversation and reduce the stigma.  
'Callie Cannabis' is the first book for kids and parents in an educational series about cannabis. Callie is the name of the character in the book with adventures designed for families to learn about cannabis and hemp including the benefits and challenges.  'Hana Hemp' is the second book in the educational series and is about a character that tells the story of the hemp plant family. It includes history, science, and the uses of the plant.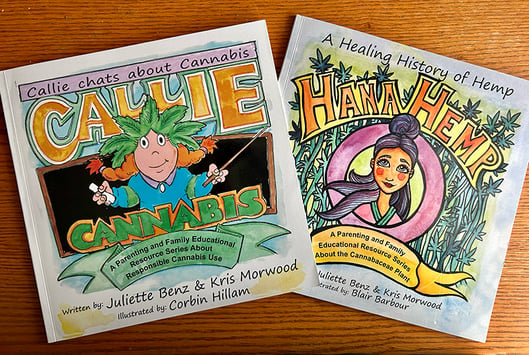 According to Juliette Benz, cannabis and hemp have come a long way since legalization, but we still have a long way to go to educate people on the difference between them. It is crucial to know the difference on not only how to use them for medical and recreational use, but industrial use as well.  The chemical compounds in hemp and cannabis are different and they are used for specific purposes.
Callie and Friends books will explain the different compounds with simple language and colorful diagrams to learn about this versatile plant family and its many uses. For instance, some people think hemp can get you high and do not know that is can be used to make products like paper, concrete, lotion and more. Cannabis on the other hand has more THC and WILL get you high! 
Middle School and Teen Youth Surveys on Cannabis Use
Has teen use of cannabis increased or decreased in the United States given that it has been legalized in some states? That seems to be situational, but most survey data is telling us that adolescent use of marijuana has either not changed or gone down with one exception.
A federally funded survey by Monitoring the Future (MTF) found that youth marijuana use decreased significantly in 2021 compared to 2020. The survey involved self-reporting by 32,260 students across 319 schools from February to June, and reflects a trend shown in multiple similar youth surveys since 2012. 
The Rise Above Colorado Youth Survey is a data source for behavioral health and substance use attitudes and behaviors among Colorado youth aged 12-17. The 2022 data of more than 700 youth is based on a representative sample of the entire state.
The survey found that despite the challenges that youth are facing, most are not regularly using substances. Large majorities of youth 12-17 reported that in the past 30 days they did not use marijuana (87%).
Rise Above Colorado reports that "In addition, fewer youth are overestimating their peers' use of marijuana and vaping products. Overestimation of peer marijuana and vaping use declined 19% and 26% respectively among middle school students. Overestimation also declined among high school-aged teens by 16% for both marijuana and vaping use by their peers".
A different recent study that analyzed datasets from the U.S. Substance Abuse and Mental Health found a different trend. It found a correlation between adolescent and young adult perception of low risk of harm from cannabis use and an increase in prevalence of reported cannabis use. This perception of low risk of harm from use may be more common in states that have legalized marijuana.
Talking Points and Tips for Parents
Here are a few talking points and tips for parents when they are answering questions or bringing up the topic of cannabis with their kids.
Keep it educational. This means do your homework. Know and explain basic things like what the Endocannabinoid Receptor System in your body is. Understand the history of cannabis and hemp and the difference between them to arm you with the knowledge your child may be seeking or that you may want them to know. The Emperor Wears No Clothes by Jack Herer is a great educational book for adults about cannabis and hemp. Or, introduce them to Callie and Friends books.

Normalize not using cannabis until your child is of a legal age. According to the Rise Above CO Youth Survey fewer youth are overestimating their peers' use of marijuana and vaping products and that "Correcting these misperceptions is a proven method for reducing future substance use". Teens who understand that most of their peers are not using substances feel empowered to not use substances themselves.

Keep communication open about responsible cannabis use. Most parents would rather their child tell them that they use cannabis rather than hide it, because they just want them to be safe. Talk about the risks of use and misuse with bad decisions such as the danger of driving under the influence of cannabis and other substances. Also talk about the perceived benefits including hemp as a natural resource and reasons for why people use cannabis medicinally. 
Education is Key for a Safe, Legal Market
We believe that education about cannabis and encouraging communication between parents and their children is key to preventing kids from using cannabis illegally and for understanding of medicinal use. We believe that youth prevention is also about reducing the risk of your kid getting into your cannabis including safe storage.  
"Education is key at every age, and at every level of government – for a safe and sensible state and federal marketplace" says Kris Michelle. "Our books were designed to destigmatize cannabis for medical or adult use and normalize the conversation about cannabis.  People of all ages need to know that the cannabis plant can provide the food on our plates, sustainable everyday products, and the healing benefits of a natural resource." 
We know this is a controversial subject, yet we also know families whose lives have been greatly improved, and others whose lives have been destroyed over this plant. It is past time for policymakers to address issues created by both the 1937 Marijuana Tax Act, and the Controlled Substances Act.  Therefore, we will continue to educate, communicate, and advocate for cannabis for all those who need access. 
Leaf411 Cannabis Nurse Network
If you have questions about cannabis, we recommend you contact Leaf411, a cannabis nurse network that The Clear proudly sponsors. LEAF411 serves as an unbiased source of information from licensed professional nurses with specific training in cannabis.  
If you have a quick cannabis question call the free Leaf411 hotline at 844-LEAF411 (844-532-3411) to speak with a nurse. Consumers who have multiple questions or would like more in-depth information can schedule a guidance session with a licensed cannabis nurse.