Learn about infused pre-rolls, why people like them, how to smoke them and about TWAX and TWAX Minis, The Clear's infused pre-rolls and natural flavors.
What are infused pre-rolled joints?
An infused pre-roll is cannabis flower that is ground up and has a cannabis concentrate added to it and then rolled with smoke paper. The concentrate can be different types such as hash, kief, wax, live resin, or THC distillate and can be inside the paper or on the outside of the joint. 
Infused pre-rolls can be "dogwalkers", which are small joints for a short smoke session, or come as a large joint for a long session. Some are called diamond-infused pre-rolls. Diamond refers to the cannabinoid THCa that form as diamond-like crystals from cannabis extraction.
Why do consumers like infused pre-rolls?
Infused cannabis pre-rolled joints are being created and offered by cannabis brands for good reasons. Experienced consumers with higher tolerances enjoy infused pre-rolls as they offer a heightened experience to a joint session. While those with lower tolerances for cannabis need only a little to get a nice buzz.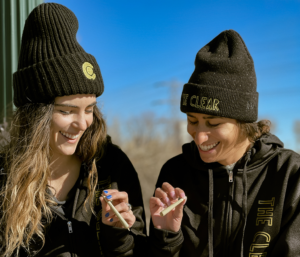 Some infused pre-rolls feature tasty added flavors that make them even more appealing. The Clear offers all-natural flavors for our infused pre-rolls, created from plant terpenes and flavonoids, so they are never synthetic.
Plus, infused pre-rolls are fantastic for socializing and taking your cannabis-loving friends to new levels, including their taste buds. Alternatively, some people like them for deep relaxation at night. It helps to know the type of strain and terpenes to assess how they might affect you.
People like infused joints so much we are seeing the demand for them increase. According to Headset, the Pre-Roll Market in the U.S. reached a new high in August 2021 at 10.9%. Additionally, infused pre-rolls were the second best-selling pre-roll segment in U.S. markets from August 2020 to August 2021.
How do you smoke infused pre-rolls?
You can smoke infused pre-rolls like a regular joint but there are a few things to try and to know. First, for an even burn, light the tip of the joint with a lighter and rotate it slowly between your thumb and index finger.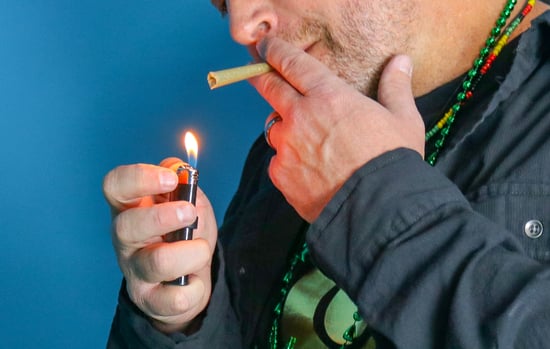 Then, start with some small puffs and go slow, especially if you've never tried an infused pre-roll before. You also may want to go slow to savor the incredible flavors and effects of TWAX. Because of the high concentration of THCa in the distillate the joint is infused with, an infused pre-roll burns slower but hits harder. So after a couple of nice and gentle puffs, pass it to your lucky friend.
It may take longer for an infused pre-roll to be put out, so if you have some left over, make sure it's not burning and keep it locked up to save for a later sesh.
The Clear™ TWAX Infused Pre-rolls
At The Clear, we are always striving to innovate clean, consistent, and high-quality cannabis products, which is why we created TWAX, our infused pre-roll.
We start with grinding up premium cannabis flower to the perfect consistency for a smooth burn. The ground up flower with kief is then mixed and infused with our highest grade of THC distillate with plant terpenes and compounds for flavoring. We then use dye-free unbleached papers to perfectly roll the infused flower.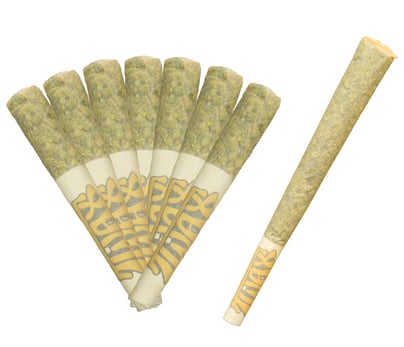 Our TWAX infused single pre-rolls come with 1.25  grams or 1 gram of premium infused cannabis flower with around 30-40% AAA grade THC distillate. Our TWAX Minis have .35 gram or .5 gram of premium infused flower in each with four to seven joints per tin, depending on the state they are being offered in.
Check out our Black Bird RollPros machine we use for our TWAX 1G and .5G pre-rolls in Colorado! These TWAX pre-rolls are rolled not packed, mimicking a nice hand rolled joint.
TWAX Flavors and Effects
As mentioned, we offer TWAX in some of our most popular award-winning flavors that are all-natural. Our flavors are from plant-derived terpenes and added to our premium distillate.
If you're wondering what strains we use, they vary from state to state. We carefully pair cannabis flower strains and their terpene profiles with the terpene profiles in our flavors so that you get the best natural tastes and effects.
At The Clear, we like to make it easy for you to know what flavor or product will have your desired effects. So, we categorize our product flavors by Anytime hybrid balanced flavors, Daytime Sativa-like flavors, or Nighttime Indica-leaning flavors. TWAX comes in these delicious flavors:
Lemon Haze Daytime flavor
Lime Sorbet Daytime flavor
Banana Anytime flavor
Blueberry Nighttime flavor
Grapevine Nighttime flavor
OG Nighttime flavor
Testing is Important
Quality control for a safe, consistent, and uncontaminated experience is as paramount as a TWAX. That's why we test and meet rigorous standards to make sure your experience is superior! We test our pre-rolls for heavy metals, pesticides, and contaminants even the papers, so your TWAX experience is the cleanest, and most flavorful on the market.
Find TWAX at a dispensary near you here. If you're interested in featuring TWAX in your dispensary, contact us.